Baldwin Model L Artist Grand Piano & Choice Of Steinway Or Matching Bench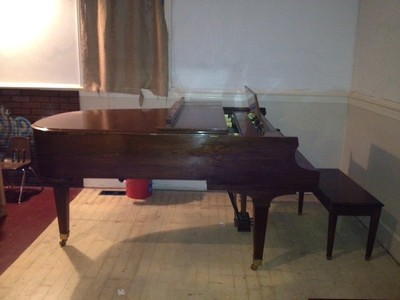 Wholesale to the Public
Moving Services
Restoration Services

Please watch video presentation of our company above.
video of Baldwin L piano :

DESCRIPTION
Contact Pascal anytime for more info about this item :
1 (866) 827 8713
Attention!!!
NATIONWIDE CURB DELIVERY IS ONLY $795
The Baldwin L1 Artist Grand Piano
The Baldwin L1 Artist Grand series piano is carefully engineered to deliver the most magnificently rich and thunderous sound possible, making the L1 a favorite among many of today's most prominent jazz players. Measuring exactly 6' 3", the L1 delivers the full grandeur of a grand piano in a smaller size. The L1 is one of the world's finest built instruments, combining traditional grand piano style and performance to deliver the full, rich, resonant sound you'd expect from the largest concert grands.

Full size piano with giant sound
Falling in the middle of our grand piano line, size-wise, the 6'3" L1 will fit beautifully into almost any space. Superior craftsmanship and materials set this piano apart from Baldwin's competitors. The L1 features a one-piece, continuously-bent rim design constructed entirely of maple. In addition, the soundboard is made of the finest quartersawn spruce available so that you can enjoy wood with a tighter grain pattern and improved uniformity for exceptional tonal characteristics. The piano's sharp keys are made from genuine African ebony wood with an added radius for a superior feel, and the Baldwin-engineered Renner hammers deliver world-class note-to-note clarity and consistency, while its superior action provides faster key repetition rates, in addition to an increase in dynamic tonal range. The three pedals are traditional — soft, sustain and sustenuto — and constructed from solid brass
Top of the line Baldwin 6'3 grand piano.$45000 replacement value
Walnut veneer on the best grand piano for the $ on ebay, in superb condition.
Your choice should be clear: Asian assembly line no soul not thrill pianos or U.S.A made quality made with a real craftsmanship heritage... We think that for the same price unless you are obsessed with the plastic looking black lacquered instrument this piano is it!
ONE OWNED, NEVER MOVED FOR OVER 30YRS , INCREDIBLE FIND
One of the most respected U.S mftg.
Best quality and production years for the US piano factory
serial # 248987 = made in 1982
Great soundboard
Awesome sound and touch.
Hammers and action work are in good original condition.
If you win this piano make sure you tell your home insurance that you want replacement value of $45k minimum.
Bring music to your world! detail is beautiful, and the body is solid. The sound quality is wonderful!
SHIPPING IS $495 AND UP, PLEASE CALL 770.717.8047 FOR A PRECISE ESTIMATE.
HOW CAN WE SELL YOU SUCH A NICE PIANO FOR THIS LOW OF A PRICE???
WE HAVE BEEN SOURCING PIANOS FOR THE LAST 10 YRS NOW AND WE KNOW WHERE THEY LIVE!
RATHER THAN MAKING A KLILLING ON THEM WE PASS THE SAVING TO YOU THERE ARE NO MIDDLE MEN IN THIS TRANSACTION NO SALES PERSON , WE ARE THE IMPORTER THE DELIVERY CREW ETC...
THIS PARTICULAR PIANO IS IN GOOD PLAYING CONDITION A TRUE SURVIVOR AND A DEMONSTRATION OF WHAT QUALITY PIANO MANUFACTURING IS ALL ABOUT.
Check out some of our feedback that contributed to the 12 yrs success and 100% positive reputaion/ feedback we enjoy.
He was very easy to deal with . the piano is gorgeous and i will never reget itBuyer: dattt1105 ( 3 ) Jul-19-11 16:01 1 OWNER YAMAHA GRAND PIANO NO RESERVE FREE DELIVERY* (#200621087015)US $5,695.00View Item
Great communication, movers arrived as promised. A great eBay-er, thank you!Seller: sondra0109 ( 49)
Soundboard = Good condition and great crown
Hammers= 95% as new
Keyboard and keys are beautiful
Strings are vibrant ,pinblocks is good pianos are very stable tuning wise.
Remember
that giving the gift of beautiful piano music to our friends all around the world will always be our goal and we invite you to play our exceptional pianos now and for years to come.
Yours truthfully
THE A440PIANOS TEAM
PAYMENT & SHIPPING INFORMATION
400+ Positive eBay Feedbacks 5YRS WARRANTY***
We have been selling pianos on eBay since 1998 (but selling pianos since 1985). We are very grateful to our eBay customers who have trusted us with such an expensive purchase on eBay. All of our positive feedback were earned with our honesty,and total dedication to our valued customers.
A440pianos is not a "fly by nite" company.WE ARE MEMBERS OF THE INTERNATIONAL PIANO TECHNICIAN GUILD(IPTG),we do have a showroom and you are invited to visit us(with your piano teacher or piano technician is our recommendation) by calling 1.888.565.5648 for an appointment.
**** CALL 1.888.565.5648 OR EMAIL FOR MORE DETAILS ON WARRANTY.
****Piano Shipping:RATES INCLUDE DELIVERY TO YOUR CITY ANYWHERE IN THE 48 STATES.
We can arrange in home delivery for another $200/$300( depending on stairs/turns etc)
worldwide delivery to any airport for $1950
Area
Cost
Time
GA
$295 TO $495
3to 4weeks
Mid West, North East, South East, Florida
$695
3 to 4weeks
South West, Texas
$995
3 to 4weeks
West Coast
$995
3 to 4weeks
Payment Instructions:
A payment must be received and verified within a week of auctionû€™s ending; otherwise, this auction will be cancelled. We accept checks(must clear before we ship..) . For an upright piano only, we accept Master/Visa/A.E credit card payments. NO DISCOVER CARD PLEASE . GA resident must pay a COUNTY sales tax.
PAYMENT ADRESS:
A440PIANOS
855 GARNER RD
LILBURN GA 30047
770-717-8047
WE APPRECIATE THE TIME YOU JUST SPENT LOOKING AT OUR AUCTION AND WOULD BE GLAD TO ANSWER ALL ADDITIONAL QUESTIONS IF YOU CALL US AT 1.770.717.8047 ANYTIME!!
---